Laura Ingraham Enlists Wendy Murphy In Attack On Planned Parenthood
Planned Parenthood is under attack by those who seek to prohibit women from exercising their right to an abortion and in so doing, prohibit them from being able to choose (Hence, the term, "anti-choice" which is juxtaposed against "pro-choice" - a view that allows women reproductive choices and a term that goes back to the 70's). Aiding and abetting and loving every minute of the attack is "pro-choice media luminary" Laura Ingraham whose Wednesday night's anti-choice-apalooza showed that she has Planned Parenthood, once again, in her metaphorical crosshairs. While she showed a lot of love toward Planned Parenthood sting artist Lila Rose (whom she thinks should get a Pulitzer for her "journalism") she race shamed African American Jehmu Greene (allluded to the so called tragedy of black abortions). Throughout both segments she recited a litany of anti-choice talking points about federal dollars spent on Planned Parenthood which, despite Lila's sting video, has not been proven to be the statutory rape abettor than the anti-choicers fantasize about. In order to validate the pro-choice agitprop, Ingraham brought in fellow attorney Wendy Murphy who is an advocate for rape victims. She's such an advocate for rape victims that she had no problem with Bill O'Reilly's speech to a rape victim's advocacy organization after he once had suggested that a rape/murder victim was, as they say, "asking for it." ("So every predator in the world would pick that up.") She also had no problem with her pal O'Reilly sending out his stalker to accost the female blogger who dared to report on the seeming contradiction between O'Reilly's words and his spokesperson role. Good ole Wendy didn't disappoint.
With the logo of Planned Parenthood in the background under which the words "inappropriate advice" were posted, Laura (whose cross glowed vividly against the royal blue dress) reported that another tape had been released by "pro-life" (Note - not "anti-abortion") "Live Action." She had her "gotcha grin" on as she described the tape of what (supposedly) transpired at a Virginia Clinic. She showed video in which a PP employee, as noted on ABC, "appeared to act professionally and appropriately, informing the couple of their legal rights to privacy under the law, regardless of their backgrounds." After noting that PP has stated that law enforcement was notified, she added that PP "attacked" sweet lil Lila by calling her an extremist and "implying that she edited the tapes." (Like those tapes that Lila's pal, James O'Keefe edited?) She noted that Rose has received death threats but didn't mention the bomb scares that the New Jersey clinic, the site of Lila's first video, received. She didn't mention that PP gets threats all the time from nice, Christian "pro-lifers" who share the same views about abortion as she does! She introduced Wendy Murphy as a "former sex crimes prosecutor." Despite the fact that of all the videos that Rose has done there have been very few actual violations and where there were violations, PP remedied them, Ingraham asserted that the videos demonstrate "gross malfeasance" which is "appalling." She whined about how PP "attacks the filmmaker." Murphy said that "we saw that with ACORN." (Right, those edited videos?) Murphy brayed about how PP says that it stands for liberation of women but supports sexual trafficking. While the PP worker, according to legal experts on ABC, provided correct information regarding judicial bypass for a minor's abortion, Murphy claimed that she was trying to give advice on getting around the rules. Murphy didn't mention that the worker went immediately to her supervisor and that law enforcement was notified. She continued to rant about how PP disregards "the interests of children" in favor of the "politics of abortion." (And Lila Rose isn't involved with "the politics of abortion?") She and Ingraham whined about how women's groups are hypocrites because they're not outraged about this. Despite the appropriateness of the clinic worker's response, Ingraham accused her of "clearly looking away" and engaging in a "wink, wink" regarding judicial bypass. Without commenting on the legal aspects of taping without permission, Murphy said that she "supports stings" and said that the "cavalier" "attitude" of the PP workers shows that this type of supposed malfeasance (and there was none on this tape) is "widespread." As the interview ended, Ingraham cited the federal money that goes to Planned Parenthood.
Comment: So two lawyers are declaring that Planned Parenthood, based on edited "sting" videos, are guilty of all kinds of things. Can we say "rush to judgement?" That Laura Ingraham would aid and abet a crusade (jihad?) to shut down Planned Parenthood, a service that provides so much (beyond abortions) to so many, is vile; but that so called "pro-choice" Wendy Murphy would be part of "the politics of abortion" is beneath contempt. Is "pro-choice" Murphy aware that if Planned Parenthood shuts down, low income women will be forced back into the hands of back alley butchers while Murphy's friends and clients will continue to see their own gynecologists? Can we say "class warfare?" Is "pro-choice" Murphy aware that her pals who want to shut down Planned Parenthood want to criminalize abortions which would mean no "choice" except for wealthy women with "connections." As the "church lady" would say, "isn't that special?!"
Sister Mary Laura says..."If I hear that you went to Planned Parenthood, I'll beat the crap out of you"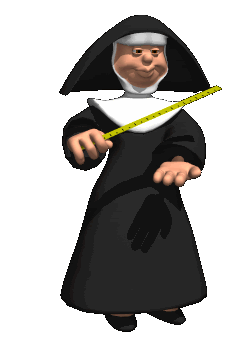 Sister Mary Laura says..."If I hear that you went to Planned Parenthood, I'll beat the living bejesus out of you"